About The Register
Published quarterly since 1847, The New England Historical and Genealogical Register is the flagship journal of American genealogy and the oldest in the field, focusing on authoritative compiled genealogies. Typical articles also solve genealogical problems, identify immigrant origins, or present treatments of multiple generations.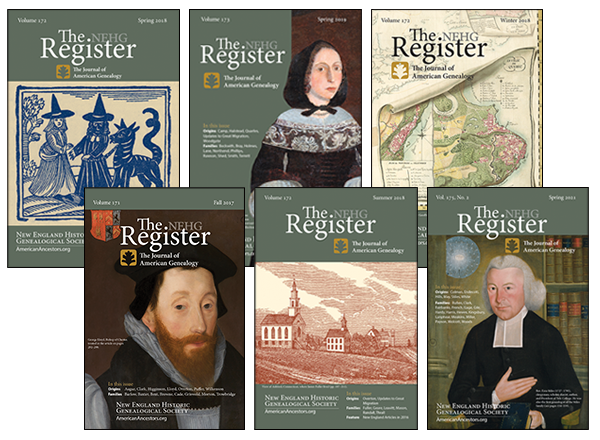 Latest Issue: Spring 2022, Vol. 176
Read the latest issue of the Register! The lead article of this issue is Descendants of Salem "Witch" Margaret (Jacobs) Foster, by William Wyman Fiske.
See below to preview this issue and read the editorial and one free article. Members of American Ancestors/NEHGS can download the full PDF of this issue at our past issues archive.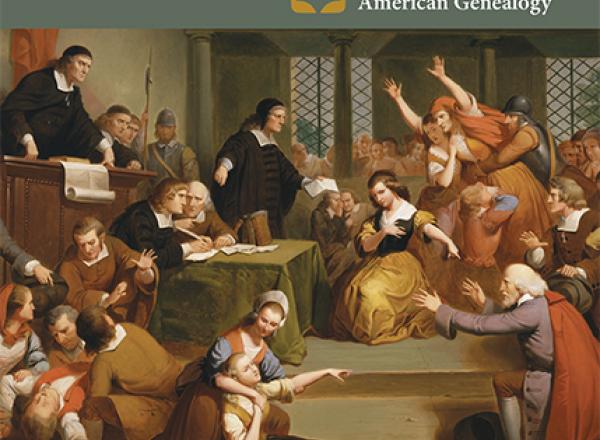 Preview the latest issue
Volume 176, Whole #702
Table of Contents
Descendants of Salem "Witch" Margaret (Jacobs) Foster
William Wyman Fiske
Identifying Judith Finne and the Early Family of William2 (William1) Woodbury of Stepney, Middlesex, England, and Beverly, Massachusetts
Charla Woodbury, James Hamlin, and "Gene" Preston
Samuel4 and Abigail (Sprague) Call of Charlestown, Massachusetts, and Nova Scotia
Robert M. Call
Baptisms in England of Two Children of William1 Ruscoe of Massachusetts, Connecticut, and New York
Randy A. West
Proving Martha Wheadon, Not Norton, as the Wife of Ephraim Page of Branford, Connecticut, and Greene County, New York
Susan Gardner Boyle
Confused Cousins: Benjamin Ober, Mariner, of Beverly, and Benjamin Ober, Weaver, of Manchester
William Wyman Fiske
Some Notes on the Ancestry of Mary1 Stallon alias Butler, Wife of Abraham1 Belknap of Lynn, Massachusetts
Robert Battle
The English Ancestry of Roger1 Willis of Dorchester and Sudbury, Massachusetts, and His Sister Mary Willis, Wife of William 1 Peacock of Roxbury, Massachusetts, and of Samuel Shears of Dedham and Wrentham, Massachusetts
Randy A. West
The English Origin of William and Margery Hayward of Braintree, Massachusetts
Alexander Bannerman
"For the Gratification of Her Posterity": George1 Thorold of Boston, Massachusetts, His Daughters of Newport, Rhode Island, and Their Lost Legacy
Nathaniel Lane Taylor (concluded from 176:34)
A Quest to Find the Parents of Cynthia Lovett Leads to a Valuable Probate Record Documenting the Lovett Family of Rhode Island and New York
Abigail B. Miller (continued from 176:39)
A Roll of Arms Registered by the Committee on Heraldry of the New England Historic Genealogical Society: Eleventh Part
(continued from 176:116)
Search the Register Database
Thousands of New England families have been treated in the pages of the journal and many more are referenced in incidental ways throughout. These articles range from short pieces correcting errors in print or solving unusual problems, to larger treatments of family origins. The Register database includes volumes 1 through 174 and holds 2.2 million searchable names.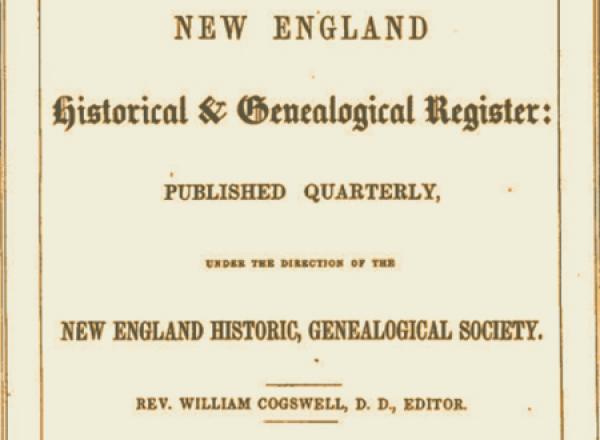 Past Issues
The Register features articles on a wide variety of topics, including vital records, church records, tax records, land and probate records, cemetery transcriptions, obituaries, and historical essays. Authoritative compiled genealogies have been the centerpiece of the Register for more than 150 years.
Members can access an archive of all the past issues of the Register back to 2010.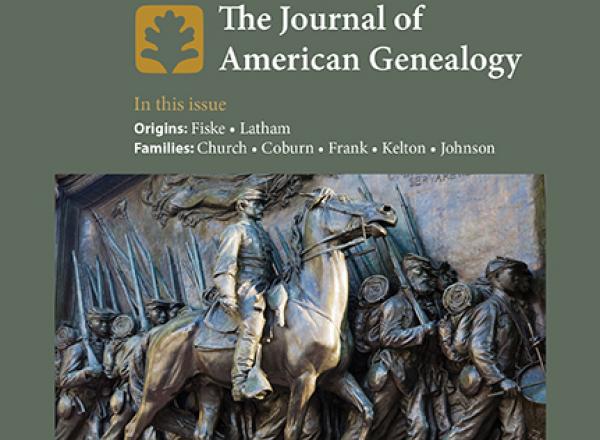 Submit an Article
We welcome submissions of articles, especially from new authors.
BROADENED EDITORIAL FOCUS
Whether or not you have written for the Register previously, you might find that your research fits well within our broadened editorial focus, to help NEHGS advance the study of family history in America and beyond.
We seek articles on:
Families in or outside of New England or New York, or families that migrated west
Families of Irish, African American, Native American, Italian, Jewish, Portuguese, Dutch, German, French Canadian, or other backgrounds
Families that arrived in America as recently as the nineteenth of twentieth century
TYPES OF ARTICLES
Our articles usually fall into one of the following categories:
Immigrant origins with a genealogical summary.
Problem-solving articles with a genealogical summary.
Genealogical accounts of families, especially families for which no genealogy now exists. Because of space constraints, these accounts should normally be limited to three generations.
Source material.
 
We rarely accept articles written in a "travelogue" style, describing the research process; we prefer instead to publish the results of research.
WRITING GUIDELINES
Write using Microsoft Word, using 12-point type, with notes in 10-point type, with 1.5-inch side margins. You can download a Register template or use Microsoft Word's "normal" style.
Please do not create your own formatting and styles; do not use any automatic features or indexing.
Articles should be 6,000 words or less.
If applicable, try to identify the parents of spouses mentioned in the article.
Pay attention to double dating, i.e., dates in January through March before 1752. It may be necessary to view the original record (if possible) to determine the correct date.
Ensure that you have included a citation for each statement of fact that is not common knowledge. Each should be cited to one or more reliable sources. Download citation guidelines below.
Once you have given a full title in a note, use a short title in later notes. Do not use ibid.
 
If you are writing about a seventeenth-century New England family, please consult the following three works and review the sources suggested in each:
Clarence Almon Torrey, New England Marriages Prior to 1700, CD-ROM (NEHGS, 2011), which is also available on CD-ROM and as a database at AmericanAncestors.org.
Melinde Lutz Sanborn, Third Supplement to Torrey's New England Marriages Prior to 1700 (Baltimore: Genealogical Publishing Co., 2003)
Martin E. Hollick, New Englanders in the 1600s: A Guide to Genealogical Research Published Between 1980 and 2010, Expanded Edition (NEHGS, 2012).
 
Remember that we are interested in the contents of your article more than the typographic style and formatting. You might find it useful to download and use our Register template. We also recommend reviewing relevant chapters in Guide to Genealogical Writing (NEHGS, 2014) and reading " Writing a Family Sketch in Register Style," New England Ancestors 8:3 (Summer 2007):41–42, 45.

Download a Register-style template
SUBMISSION GUIDELINES
Submit a description of your article in advance.
Please limit articles to 6,000 words or less.
Submit your article either as an email attachment to register@nehgs.org. If you prefer to submit a paper copy, or a file on CD, send to Editor, Register, 99–101 Newbury Street, Boston, MA 02116.
Please consider sending us copies or scans of original documents along with your article.
Please do not submit articles that have been published previously, either in print or online.
Please do not submit an article that you are also submitting to another journal.
 
You should receive an acknowledgment within two weeks but may not learn for several months whether your article has been accepted for publication. Once accepted, it may not be published for at least one year.
If your article is accepted, you will receive a standard Register permission letter to sign. The letter grants NEHGS a perpetual non-exclusive right to publish. During the editing process you will be able to review and comment on editorial changes to your article.